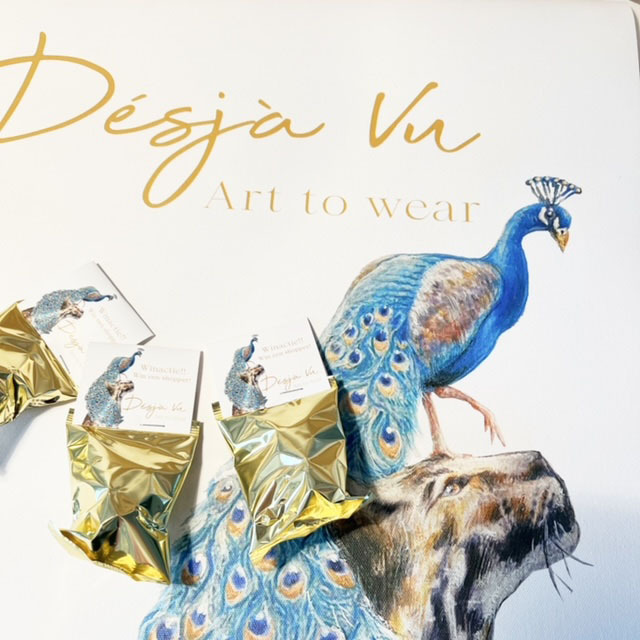 March, 2022
Désjà Vu 'luck in a cookie'....
Then when you're at a trade show, you want to do something fun....!
We came up with a fun win action for the Fashion Trademart fair in Utrecht and at the Show-Up fair in Vijfhuizen, because of course you want to give the visitors something nice to take home with you! Something that fits with Désjà Vu and that tells a story (or has a message) ...like all products and designs of Désjà Vu!
A great opportunity for an original win action!
Thinking up a win action is fun, but the execution is just as important. A mini message in a special packaging.....'the fortune cookie!'
But what exactly is a fortune cookie and where does it come from....funny facts!
Did you know that these cookies do not originate in China?
A fortune cookie or 'fortune cookie' is made of flour, sugar, vanilla and sesame seed oil. Inside the cookie is a saying or prediction in the form of a rolled up piece of paper. These fortune cookies are often served in American Chinese restaurants and sometimes in other countries. The exact origin of fortune cookies is not entirely clear, but their origin is not China! Most likely, this cookie comes from America. In California, they claim that they are the ones who introduced this cookie in the early 20th century.
The Japanese once had a cookie very similar to the fortune cookie. This used to date back to the 19th century and was made in Kyoto, Japan. The cookie did differ in a few ways from the fortune cookie we know today.For example, they used dark dough and the ingredients were slightly different. This cookie was called Tsujiura Senbei and is still sold in certain parts of Japan at the beginning of the new year.
Thus, the fortune cookie was not a Chinese invention. In 1989, fortune cookies were introduced in Hong Kong and were sold as "Real American Fortune Cookies by Wonton Food. However, this was not a success because the cookie was considered "too American.
So this cookie already has a whole history .... and now in the form of a fun win from Désjà Vu!
We are curious who found the golden ticket!